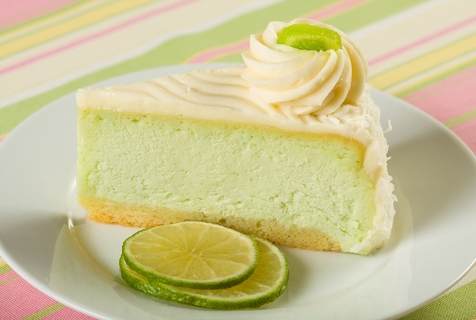 This is a deliciously easy
Key Lime cheesecake recipe
. Tangy and rich, the lime is the perfect companion to the sweetness of the cheesecake.
Key Lime Cheesecake
Ingredients:
1/2 cup sugar
2 pkg. (8 oz. each) Cream Cheese, softened
1/4 cup heavy whipping cream
1/2 tsp. vanilla
2 Tbsp. fresh lime juice
1 tsp. grated lime peel
2 eggs
1 Graham Cracker Pie Crust
1 cup thawed Cool Whip Topping
Directions:
1. Preheat oven to 350°F. Beat cream cheese, whipping cream, sugar, lime peel, lime juice and vanilla with electric mixer on medium speed until well blended. Add eggs, one at a time; mix just until blended.
2. Pour mixture evenly into graham cracker crust.
3. Bake for 40 minutes or until center is almost set. Cool.
4. Refrigerate 4 hours or overnight. Top with whipped topping before serving.